March 10, 2021 |
Scott Thomas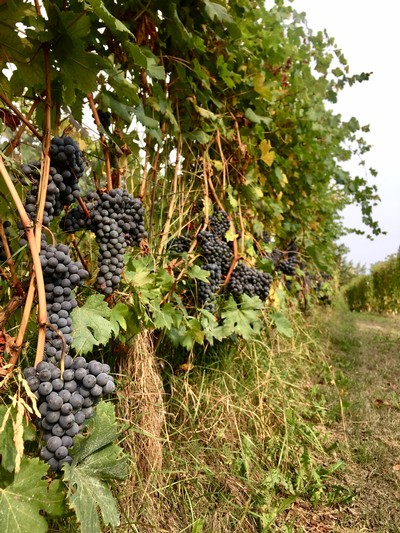 Nebbiolo...oh how we love thee. Often considered one of the world's most noble grape varieties and producing Italy's (and Attimo's) finest/complex wines. Here are some fun facts.
Nebbiolo's documented history is one of the oldest, dating back to 1268. Pliny the Elder may have even mentioned it during Roman times. Its name is credited to two different theories: "nebbia" is the Italian word for fog, and because Nebbiolo is harvested after October when the fog in the Langhe hills is thickest, the name may have its origins there. Another possibility is that because it's harvested so late in the season, a bloom of white yeast forms around each of the bunches causing them to look enveloped in a cloud of fog. Or maybe it's because we consume too much and we feel a little cloudy :)
Nebbiolo is a thin-skinned grape creating wines with a noticeable garnet hue. This color is attributed to a higher percentage of a pigment (peonine) that lives in a free form, not binding to sugars during fermentation as in other grape varieties, thus continuing losing color towards brick/orange as the wines age in a bottle. This is very evident in our 2017 Nebbiolo d'Alba. Don't let the color fool you. It may look elegant and light, but Nebbiolo always has broad shoulders and dense tannin structure. We like to say "power wrapped in elegance."
Like Pinot Noir, Nebbiolo has the ability to reflect its place of origin, reinforcing the philosophy of terroir (aka- taste of place). For example: Nebbioli from the Roero (less than 10km's from Barolo, just across the Tanaro River) tend to be lighter and more bright largely due to the sand-based soils there. Less compact soils = a lighter-styled wine. Compared to in the Barolo region, especially in the commune of Monforte d'Alba where we own a piece of the Ginestra vineyard, Nebbioli tend to produce wines with more firmness and structure due to the compact clay/limestone/sandstone soils.
Nebbiolo needs abundant light to ripen fully. This is why the most celebrated vineyards in the Barolo/Barbaresco zones face south to catch the sun's full potential. In olden times, producers noted which slopes melted first after a big snow, labeling those areas in Piedmontese dialect as "sori," then planting with Nebbiolo. The lower parts of the hills where the cold air tends to sit are planted with Dolcetto and Barbera, grapes not so dependent on heat to ripen fully.
Our 2015 Barolo, 2016 Barbaresco and our 2017 Nebbiolo d'Alba are our current releases, all produced with 100% Nebbiolo. You can taste the nuances of this amazing grape in each of our wines. Keep an eye out for our next release of 2016 Barolo and 2017 Barbaresco coming soon. These wines were grown, fermented and aged in Italy, bottled by hand here in Denver.
Cin Cin!